Tips For Protecting Your Property From Storm Damage
11/9/2020 (Permalink)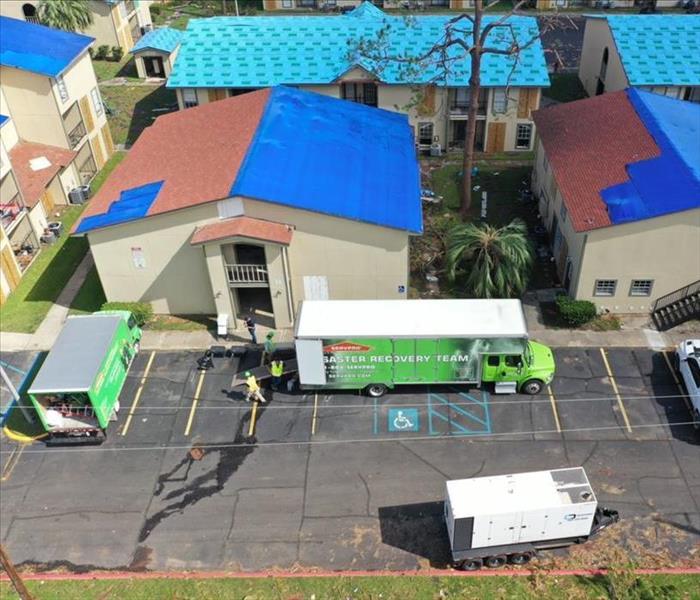 SERVPRO of Spring/Tomball assisting Lake Charles, LA in the cleanup and rebuilding process after a devastating hurricane.
Ways To Prepare Your Property Before Storm Winds Blow
When you own property in Houston, TX, severe weather can become a major cause for concern. A single roof leak can cause a lot of damages, especially if the damaged roof goes unnoticed for a day or two. Fortunately, there are several things you can do to prepare your property before storm winds blow.

Trim Trees and Shrubs
Any weak, diseased, or dead branches could break away from trees and pose a threat to your buildings. Overhanging branches could break windows or fall onto the roof, leaving areas of missing shingles. These gaps can then lead to water damage within the building.

Upgrade Roof Shingles
When it comes to the best protection of any property, the roof is at the top of the list. When hail, rain, and wind damage or carry away shingles, the potential for leaks and further damages increases. Get high-performance shingles with UL Class 4 IR standard ratings.

Brace Garage Doors and Other Vulnerable Areas
Some exterior doors have welded steel frames with heavy-duty components, but other entrances and exits, such as garage doors, are lightweight. Pay special attention to delivery bays and similar areas. Heavy winds could blow lightweight doors onto the roof or around the property.

Replace Vinyl and Aluminum Gutters With Steel
If you live in an area where hail is a common concern, vinyl and aluminum rain gutters and downspouts are highly vulnerable to damage. When gutters are damaged, become loose, or fall away from the building, the chances of a roof leak developing increase. You may not even realize that water is leaking into the building until it's time to call a wind and water damage remediation company.

Install Protective Screens Around Your Property
Air conditioning units, heavy fans, and other equipment that's outside can be hit hard by thunderstorms and the winds and rain that come with them. Install screens to protect sensitive components of the equipment. Additionally, fencing around your property may catch debris from other buildings in the area.

From a simple roof leak to a branch through a window, it's important to immediately address property damages following a thunderstorm. Contact SERVPRO of Spring/Tomball for emergency tarping and board ups until the repair process can begin to return your building to its pre-storm condition.